by Paul Johnson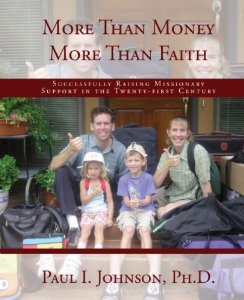 Would you leave all and go to the mission field by faith alone? Is this really what the Bible teaches about how missionaries should be financially and spiritually supported?
Should churches, friends, and family send their missionaries off to the "field" without being sure they have adequate support?
Should mission agencies encourage new recruits who do not have established financial and spiritual backing?
Does the Bible teach missionaries to live on the promises of God and not be concerned for physical and financial needs?
Or, does God have a plan for those He calls and sends out to carry the gospel to the ends of the earth?
If so, what is the plan?
In this book, Dr. Johnson shows that God laid down the plan and the principles for missionary support in the Old Testament. He demonstrates from Scripture how The Lord Jesus and the apostle Paul picked up on this plan and those principles from personal experience and through their teaching.
The author provides biblically based, practical suggestions on how to develop, with the help of friends and churches, a missionary sending team.
He and wife Dona have served with Wycliffe Bible Translators for over thirty years. They have two sons, and two grandchildren.