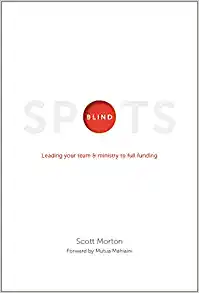 Author Scott Morton was the state director for The Navigators and he was raising his personal ministry budget well enough, but his staff and interns were barely getting by. Through they never said a word about it, they struggled to raise enough money to come to regional meetings or fund the inevitable family emergencies.
He realized that he had some "blind spots" in his approach to helping his team.
In this book, Scott explores ...
You: Blind spots in your personal outlook
Your Team: Blind spots as you lead others
Your Strategies: Blind spots in your fundraising practices
Your Organization: Blind spots in your organizational structure and systems