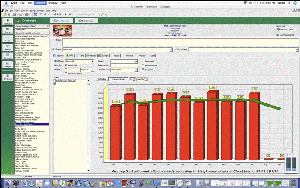 tntConnect is a full featured, robust computer program that goes beyond mailing list and contribution management, but tries to help staff members build a plan to help develop the relationships they have with their ministry partners and ministry friends.
tntConnect provides very strong tools to a structured approach to ministry partner development.
This Windows and Mac software is made available for free by Troy Wolbrink and has quite a large number of users in many different organizations.
TntConnect's features include
Easily connect to your organization's online donation system to download donation information directly into your database.
Keeps your address and phone numbers up to date by notifying you when they are changed with your organization's online donation system.
Import contacts from Outlook or download names and addresses from your organization's donation system to get started easily.
Synchronize (two-way) with Outlook. (for syncing to palm computers.)
Easy mail merge with Word. You don't have to know anything about Mail Merge to use this!
Pictures (JPEG, BMP) can be stored with a contact. (You see their picture when you call them.)
Automatic reminders to send thank you letters in response to certain donations.
Links to auto dialer (if you have a modem).
Analyze weekly partnership development activities to help you fill out weekly updates for your support coach.
Easily analyze your support situation in a variety of ways
Built in reports include: birthdays and anniversaries, 13 month donations, late donors
Full support for international names, addresses and phone numbers.

There is more information about tntConnect at the website: http://www.tntware.com/tntconnect
John Muehleisen is the regional strategist for World Gospel Mission in Africa.
He loves to help ministry teams clarify their "wildly important goals" and then connect those teams to the training, networks, people, and resources they need to execute their strategy.
In addition, he is the Transformational Training Coordinator for WGM in Africa.
He and his wife Beth currently live in Kampala, Uganda. They have two adult daughters who were raised in Nairobi where they lived for almost 20 years prior to moving to Uganda in 2007.
wgm.org
Latest from John Muehleisen