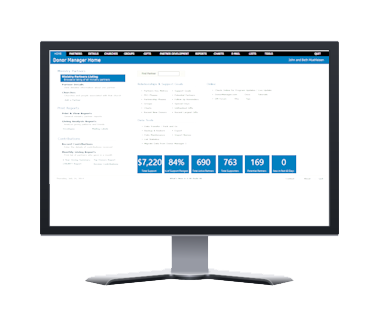 The Donor Manager program is a free Windows based program written specifically to help missionaries and others who raise their own support to develop stronger, transformational ministry relationships with their partners.
The Donor Manager is built around a mailing list, and includes the ability to track pledges and contributions, special relationships, special days in the lives of their partners (birthdays, anniversaries), as well as a record of your interactions with your partners (phone calls, visits, letters, thank you notes, etc.)
Names and Addresses of individual partners and churches
A history of donations
Important dates in the partner's lives (birthdays, anniversaries)
A history of contacts and personal touches with the ministry partner
Notes about the partner, their family, occupation, etc.
Profile information about the donor / partner
Assists with mailing by printing mailing labels, envelopes, and merges to most popular software
Prints various reports about ministry partners, contributions, etc.
You can get more information about the Donor Manager and download the program for free from: http://www.donormanager.com.
John Muehleisen is the regional strategist for World Gospel Mission in Africa.
He loves to help ministry teams clarify their "wildly important goals" and then connect those teams to the training, networks, people, and resources they need to execute their strategy.
In addition, he is the Transformational Training Coordinator for WGM in Africa.
He and his wife Beth currently live in Kampala, Uganda. They have two adult daughters who were raised in Nairobi where they lived for almost 20 years prior to moving to Uganda in 2007.
wgm.org
Latest from John Muehleisen